Established in 2001 by Nikolay Dobrev, Dobrev Wellness is built around the core value of Well-Being. Based in Gran Canaria, Dobrev Wellness draws on years of real-world experience and practical knowledge working with people from all walks of life and corners of the world. We are very passionate about our work and aim to provide a world-class treatment with care, and You at the center of our attention! Chose from our highly-regarded and favorably reviewed treatments:
Massages:
Sports
Therapeutic
Classic Swedish
Craniosacral
Head massage
Reflexology
Reiki, and
Yoga classes
AWARDS, CERTIFICATES, AND ACCLAIM
We are so proud, and happy to have been awarded Certificate of Excellence by TripAdvisor, 5 years in a row, which in 2019 qualified us for TripAdvisor's Hall of Fame! All of this is thanks to you, our friends, for giving us consistently positive and highly rated reviews of our services! We appreciate this so very much! Thank you!
YOU ARE ALWAYS WELCOME!
YOU CHOOSE WHERE TO MEET US!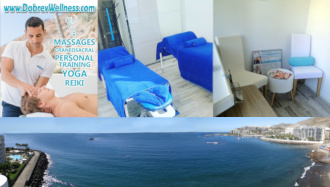 1. DOBREV WELLNESS STUDIO
This is our primary location! Situated at Apartamentos Doñana building, in Patalavaca/Arguineguin, our own studio offers you calm atmosphere, privacy, and convenience. You are always welcome here!
Address: Apartamentos Doñana, Av. Los Canarios, 25, 35129 Patalavaca
Street level, limited parking available.
-> See in Google Maps
2. SERVATUR HOTEL GREEN BEACH, POOL
Next to the pool of the Green Beach hotel is our open-air massage cabin. Both hotel guests and just visitors are welcome!
Address: Av. Los Canarios, 23, 35120 Patalavaca
-> See in Google Maps
3. YOUR APARTMENT OR HOTEL
You are very welcome to book a massage in the convenience of your own apartment or hotel room in Southern Gran Canaria! Just give us a call to arrange the details.
Please, keep in mind that a transportation fee of €15 is charged in addition to the treatment of your choice.
Our staff is educated, well-trained, careful, and attentive, with years of practical experience!
Contact us if you have any other questions or for reservation:
phone: +34 672 579 145, or
e-mail: info[at]dobrevwellness.com
Book online, choose a treatment, and see prices on DobrevWellness.com
We are able to attend to you in these languages: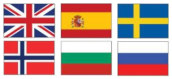 English, Español, Svenska, Norsk, Български, Русский.