This is what Nikolay Dobrev Wellness offers you!
Excellent and highly-reviewed services!
The Sports Massage has its origins in ancient China, Greece, and the Roman Empire, where training and massage were often combined. It typically involves deep tissue pressure, useful to prevent or relieve muscle tension, tightness, or pain caused by over-strain.
This is a type of massage that aims to keep athlete's muscles "loose", thus averting injuries and keep the body in optimal state. During your treatment the focus is on the muscle-groups most in need of recovery and relief. There are three major goals:
1) To prepare the muscles for exercise strain so to keep them in an optimal condition.
2) To prepare the body and prevent injury during training or competitions.
3) The recovery of injuries and alleviation of pain.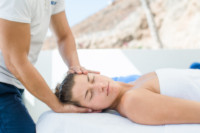 Used from ancient times till nowadays, the therapeutic massage helps release stress, chronic or acute tension and tightness, relax muscles and ligaments, as well as pain in joints. A Therapeutic massage approaches on your specific problem areas by manipulating the body's soft tissues and muscles. It is a great way to facilitate a healing process and help a speedy recovery. Therapeutic massage is not as "hard" as a Sports- or Deep-tissue massages. Many ailments are cased or worsened by stress. Relieving it with therapeutic massage could be a great way to become healthier.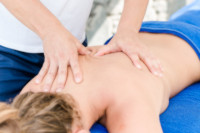 Classic massage is the manipulation of soft tissues whose main purpose is to relieve discomfort in different parts of the body, caused by various factors such as trauma, poor posture, stress, among others. Its benefits are multiple, such as providing relaxation and promote sleep, activate circulation and eliminate toxins, improve muscle tone and flexibility, relief or eliminate specific ailments and, in general, improve the well-being of the person.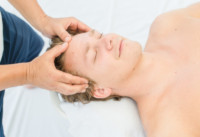 A head massage is a great way to relax your mind and body by stimulating the nerve receptors in your scalp. It is performed with gentle movements and light pressure of the fingertips. This type of massage has many benefits, such as reduced stress or anxiety, improved mood, better head and neck mobility, and may promote better sleep.
This therapy targets a joint system formed from the skull to the sacrum, by the meninges and cerebrospinal fluid and all the structures that make up the system such as the brain, spinal cord and cranial bones. At first, there is a harmonic energy that is also transmitted to all our organs, cells and body tissues from this same system. Thus, the power and quality of the flow of this energy to your entire organism determines your state of health and vitality. All tension and the energy that was maintaining the contraction are released In the session.
Reflexology deals with the system of interconnected parts (zones) of the body. By applying pressure on a limited zone of the body such as feet, ears, head, etc., a healing response can be induced in the other zones of the body resulting in stress or pain relief. Reflexology uses maps of the feet, hands and other areas to guide the movements with which pressure is applied in specific areas. Reflexology professionals are chiropractors, physiotherapists and massage therapists, among others.
Yoga is a system of exercises which aims to master the body, the psyche, and to attain a state of inner stillness and insight into the true nature of reality. It is one of the most famous and practiced relaxation techniques. Its postures reduce stress and anxiety by allowing you to relax your muscles, breathe slowly and clear your mind.
Yoga teaches correct abdominal or diaphragmatic breathing increasing the oxygenation of the cells. Breathing in (inhale) begins in the abdomen, continues in the intercostal area, and ends in the clavicle. Breathing out (exhale) follows that path in reverse.
Reiki is a method for energy healing by laying hands on or near the body. Energy radiated from the hands can be transmitted to the other person or body part even if the hands do not have direct contact with the treated area.
Reiki treats one's body and soul. It reduces stress and aims to restore balance bringing well-being, happiness, and relaxation.
The word Reiki is composed of the Japanese words rei, meaning self or spirit, and ki - the universal life force. Reiki has ancient origins but was "rediscovered" in the mid-1800s by Makao Usui, a Japanese Christian monk and teacher in Kyoto.
Choose One Hour of Sports-, Classic-, or Ergonomic Chair massages, in the comfort of your home or hotel room.
The transport fee of € 15 is added to the invoice. The fee is € 0 if you book a minimum of 3 hours (ie 3 VIP massages).
Sports Massage Package of 5 Treatments:
Sports Massage Package of 10 Treatments:
Package of 5 Massage / Reiki Treatments (excl. Sports):
Package of 10 Massage / Reiki Treatments (excl. Sports):
Packages of Yoga classes: